Musei

e cultura in Trentino


Scienza, arte, musei, tesori della natura: ecco i luoghi migliori per lasciarsi affascinare dalla cultura trentina
Sport

e vacanza attiva


Trentino: una palestra all'aria aperta, ideale per ogni attività sportiva: ecco le nostre proposte
Trentino Holidays between the Dolomities and Lake Garda
Welcome to Trentino Top.it!
Welcome to the official website: Trentino Top, the network that offers the best opportunities for a vacation in Trentino, especially thanks to the participation of more than 40 entrepreneurs from Trentino. They are the owners and mangers of prestigious infrastructures that provide an excellent quality service. On TrentinoTop.it you can find not only offers for wonderful vacations, but also museums and diverse geographical destinations. The latter shows the well-known historical, cultural and gastronomical pathway Trentino proposes.
Offerte

e Last Minute
Quante volte avete desiderato dei momenti di pace e tranquillità da trascorrere con la persona amata? L'Hotel Isolabella, wellness hotel in centro a Fiera di Primiero, Vi aspetta per un'offerta last minute valida dal 28 giugno al 5 ...
Pacchetto Cicloturismo a Rovereto, Hotel Mercure Nerocubo The package includes a pleasant stay in our classic rooms, a large buffet breakfast for starting your day at its best, welcome drink at the lounge bar and a delicious dinner ideal for ...
Le meraviglie della Valsugana a Levico a due passi dal magnifico Lago con uno sconto del 20 per cento dell'Hotel ...
Discover the magic charm of the spring blooming with a relaxing holiday in Levico Terme! At the "Imperial Grand Hotel", a special offert for your holiday among the wonderful nature in ...
Surf & bike scontati del 30 per cento, a Torbole sul Lago di Garda. Hotel Lido Blu
News

dal Trentino
Per la seconda edizione del Vigolana Trail che si svolgerà il prossimo 6 giugno 2015 cambia il Comitato organizzatore: il Consorzio Turistico della Vigolana, in collaborazione con ASD Senza Freni e GSD Valsugana ...
La Vigolana Camina e Magna è una camminata gastronomica a tappe che si snoda lungo una serie di saliscendi di strade sterrate e asfaltate toccando i paesi di Vigolo Vattaro, Bosentino e Vattaro. Circa 14 km immersi nella ...
Nel cuore del Trentino, tra la Valle dell'Adige e la Valle di Fiemme, tra boschi rigogliosi, specchi lacustri e terrazze di vigneti, l'Altopiano di Piné e la Valle di Cembra si distinguono per la varietà dei loro ambienti ...
Raduno cicloturistico internazionale non competitivo con biciclette da corsa d'epoca costruite prima del 1987. In onore di Francesco Moser e della sua famiglia, che ha scritto la storia del ciclismo dagli anni '50 ai giorni nostri, nasce la prima ciclostorica di Trento, unica tappa del Giro d'Italia d'Epoca in Trentino Alto ...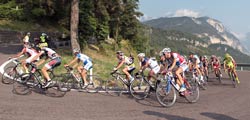 La Leggendaria Charly Gaul, unica tappa italiana di qualificazione al Campionato del Mondo per Cicloamatori – UWCT 2015 -, è ormai un appuntamento fisso e torna ad emozionare anche per l'anno 2015 con la sua decima ...